PROJECT GLACE (GLOBAL LEARNING THROUGH ACTIVE CITIZENSHIP EDUCATION) RECOGNIZED AS ONE OF THE BEST APPLICATION PROJECT IN NCR
By Dr. Marco D. Meduranda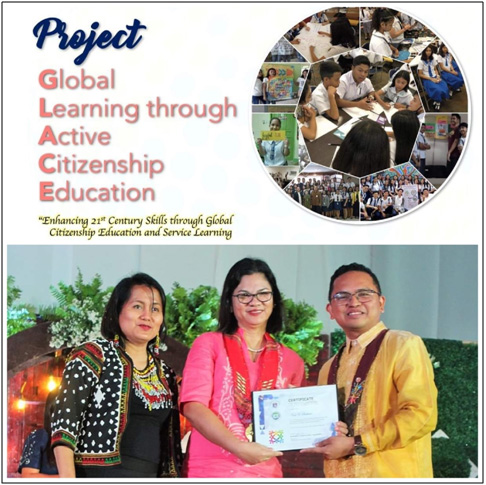 Commended for its effectiveness, replicability and sustainability, SDO-Navotas' Project GLACE (Global Learning through Active Citizenship Education) was recognized as one of the best application project in the National Capital Region during the 3rd Annual Forum on Teacher Exchange Towards Global Citizenship Education held on October 28, 2019 at Palasyo de Manila in Malate, Manila. The certificate of recognition was given by Assistant Secretary, Alma Ruby C. Torio together with Director Margarita Consolacion C. Ballesteros of the DepEdInternation Cooperation Office. Dr. Marco D. Meduranda, Education Program Supervisor in English and the proponent of Project GLACE received the award.
Before receiving the recognition, Dr. Meduranda shared to the audience the success story, milestones and future direction of Project GLACE. In his presentation, he explained that Project GLACE is an after-school program that aims to enhance students global citizenship skills through service learning activities and off-campus intercultural experiences. For its first year of implementation, Project GLACE was implemented in all nine secondary schools in the division, with a total of 354 students and 27 teachers as beneficiaries.
He also narrated how Project GLACE teachers were trained on Global Citizenship Education content and pedagogy from May 21-23 to ensure quality delivery of the program. Teachers were taught how to apply the Four-I's approach (Inquire, Investigate, Innovate and Impact) in the development and design of global citizenship education aligned lesson exemplars. Furthermore, he cited the support given by the local government of Navotas which provided the Navotour Bus for the students' off-campus learning experience in the embassies of the United States of America and Indonesia. Moreover, he imparted the service learning activities that GLACE classes engaged in. Some of these include coastal clean-up, literacy outreach and Arts class volunteer work for SPED students and feeding program for the poor children in Navotas.
In addition, he discussed the initial impact of the program which showed marked increase in global citizenship knowledge, skills and values as revealed by standardized questionnaire and corroborated by data source triangulation.
Mr. Meduranda was also congratulated by the Director of UNESCO Asia-Pacific Centre of Education for International Understanding, Hyun Mook Lim and Indonesian Embassy Cultural Affairs Attache, Dr. Lili Nurlaili for championing  Global Citizenship Education as he bared his plans to conduct the Project GLACE Festival of Learning and development of lesson exemplars to support GCEd. Mr. Meduranda also acknowledged the full support given by the division officials specially SDS, Dr. Alejandro Ibañez and CID Chief, Mrs. LoidaBalasa as well as the secondary school principals for Project GLACE's first year of implementation. He also stressed that Project GLACE will undergo continuous improvement as teachers and students clamor for Project GLACE 2.0 for school-year 2020-2021.