ELEMENTARY AND SECONDARY PARTICIPATING SCHOOLS VIE FOR THE 2020 METROBANK MTAP-DEPED CHALLENGE ELIMINATIONS
By: Alberto J. Tiangco, EPS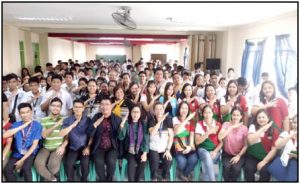 True to its objective on contributing to improving the quality of mathematics education in the Philippines, the Metrobank-MTAP DepEd Challenge held its annual competition for elementary and secondary levels with the theme "Mathematics Gear towards Digital Generations".  This year's Division elimination round was hosted by Navotas Elementary School (District I) and Daanghari Elementary School  (District II) for the elementary level on January 16 and the Navotas National High School for the secondary level on January 17 respectively,with all participants coming from both public and private schools in the City of Navotas.
            A brief program preceded the Division Elimination Testupon completing the registration. Present in the event were the Schools Division Superintendent, Dr. Alejandro G. Ibañez; the Education Program Supervisor for Mathematics, Mr. Alberto J. Tiangco, School Heads, Department Heads, Coordinators and Coaches, and the young mathematicians.
            Awarding of winners followed immediately after the careful checking and tallying of the results by the committee. Participants from Dagat-Dagatan Elementary School (District l) and Tangos Elementary School (District II) dominated the elementary level while Navotas National Science High School and Navotas National High School hailed as champions in the secondary level.  The winners from both levels advances and is to represent their Schools for the Division Finals.