DFOT Hones Talented, Young Navoteños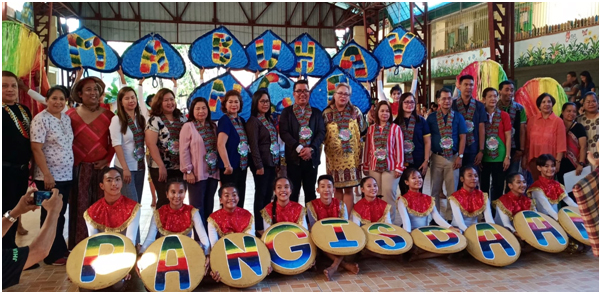 As part of the preparation for the 2019 Regional Festival of Talents (RFOT) to be hosted by the Division of Muntinlupa City, SDO-Navotas conducted the Division Festival of Talents (DFOT) – SiningTanghalan on November 8, 2019 atKapitbayahan Elementary School, NBBS, Navotas City.
            The said activity was participated by all the nine (9) high schools in the categories for Pintahusay (On-The-Spot-Painting), Sineliksik (Short Film), DirekKo, Ganap Mo (Acting), Sulatanghal (PlayWriting), Bayle (Modern Street Dancing), Likhawitan (SongWriting). Meanwhile, HimigBulilit (Children's Choir), and KatutubongSayaw (Folk Dancing) were participated in by elementary schoolpupils.
            Truly, the activity prepared the participants for the regional competitions. As a matter of fact, winning DFOT students bagged awards in the RFOT held last November 27-29. DirekKo, Ganap Mo bagged the bronze medal acted by Paul Timothy Y. Diño and Junyka Sigrid M. Santarin, Special Program in the Arts (SPA) students of NavotasNational High School, Folk Dance ranked 5th as performed by the selected pupils of Tangos Elementary School, Sineliksikalso ranked 5th portrayed by Morris C. Elunio and Edcel R. Albaof Tangos National High School and Bayle clinched 4th from the over-all ranking rendered by the selected students of Kaunlaran High School and choreographed by the MAPEH Teacher Mr. Laurence Salamanca.
The festival of talents aims to provide opportunity for learners in public and private elementary and secondary schools, as well as learners from Alternative Learning System (ALS) to showcase their talents and skills through exhibitions of their products, services and performances.All of these objectives were met during the competitions and with the encouragement of the very supportive and brilliant Schools Division Superintendent Dr. Alejandro G. Ibanez, the student-participants' God-given talents were further honed as proven of their achievements in the recently concluded Regional Festival of Talents showdown.